Annie Unrein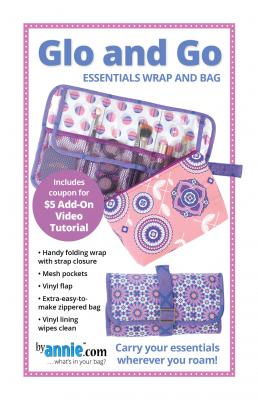 Glo and Go Bag sewing pattern from By Annie Patterns
$10.00
$8.99 On Sale!
Your Savings

8.99
More Details
Reviews
Customers also liked...
Glo and Go Bag sewing pattern from By Annie Patterns More Details
Glo and Go Bag sewing pattern from By Annie Patterns.

Carry your must-have makeup, brushes, tools, toiletries, and more wherever you roam! Fast and easy to make, Glo and Go makes a great gift, too.

Men and women, boys and girls all will appreciate this handy set that makes travel and organization a breeze. Simply customize your fabric choices to suit your recipient.

The handy folding wrap with strap closure and coordinating zippered bag make it easy to store and organize all your essentials in style. The fabric is covered with SLICKER/iron on vinyl for easy clean-up and durability.

The wrap measures 9-1/2 inches H x 15 inches W when open and 9-1/2 inches H x 5 inches W x 1-1/2 inch D when closed.

A handy 1 inch slider secures the strap and allows expansion for bulky contents.

Soft poly mesh pockets finished with Fold Over Elastic provide visible storage and expand for larger items and can be customized to suit your needs. A clear vinyl flap at the top of the wrap keeps everything safe, secure, and clean.

The extra-easy-to-make zippered bag measures 5-3/4in H x 9-1/2in W x 2in D.


Click here for more Annie Unrein sewing patterns and products...
Reviews

| No reviews for this product.