Collins WashAway Wonder Tape - 1/4 inch x 10 yards - #C7
$

5.99
Was $7.00
Your Savings $1.01
in stock
Double-sided transparent tape that can be stitched through. Great for holding things in place temporarily -- like binding, rick rack, etc. Perfect for holding things in place in areas where it's difficult to put pins or where pins may cause shifting due to bulk.

Adhesive tape will not gum up needle. Adhesive tape disappears when finished item is washed.

Use in place of pins or clips to apply rick-rack, trims of all sorts, binding, zippers, appliques and pockets. Very handy for matching plaids.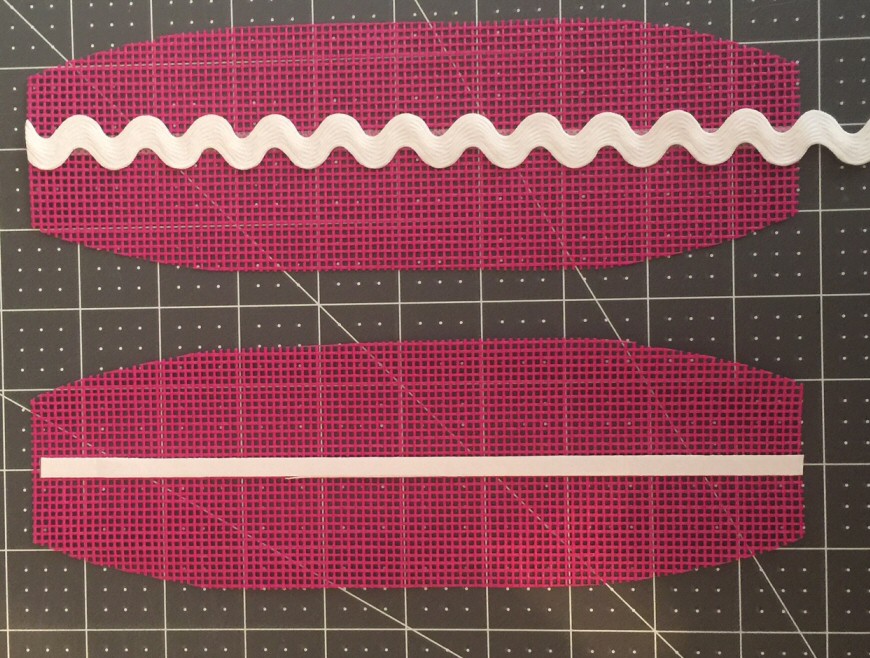 Tracy's tips: I love to use Wonder Tape to apply Rick Rack to Vinyl Mesh projects. In the picture shown left, I am applying white jumbo rick rack to hot pink vinyl mesh planks (used to make a Button Boats Easter Basket)

Wonder Tape holds the Rick Rack just right so I don't have to fuss with awkward pins.

Cut a strip of tape in the length you need. See bottom plank in picture at left.
Press adhesive side on base material or fabric. Once in place, rub your fingers over paper/top of tape with firm downward pressure. Do this several times. This will help keep the tape stuck where you want it. Now remove paper backing from top of tape. At one end, use your finger nail or tweezers to grasp and remove the paper exposing adhesive on the top side
of the tape.

Apply trim. See top plank in picture at left. Use firm, downward pressure.
Take it to the machine and stitch in place.

See finished Easter Basket Button Boat, pictured right. NOTE: I also used the Wash Away Wonder Tape to hold the 1/4" binding in place. I used the Clover Bias Tape Maker to make the binding. Then I applied Wonder Tape around the edges of the front and back of the planks of vinyl mesh. I opened the binding and enveloped it around the edges of the vinyl mesh (so that the mesh fit perfectly against the center crease of the binding), then pressed firmly into place with my fingers, took it to the machine and stitched on. No pins, no shifting, no problems. It worked beautifully.

Save
Save
Save
Save